The door is opened by a man in early middle age, holding a glass full of an amber liquid.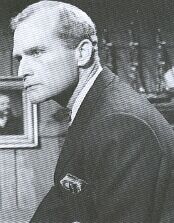 "Hello, Roger," Burke says. "Long time no see."
The man responds with "What the devil . . . I mean, when did you get back in town, Devlin?"
"Just soon enough, friend. Just soon enough." With that, he heads back to the car and drives off, perhaps a bit faster than might be wise.
While the man -- this must be Roger Collins -- stares after him, more or less ignoring Victoria, an older woman joins him.
"You must be Miss Winters," she says, "Please, come in. I'm Mrs Stoddard." She turns to Roger. "I
said
you should have left to meet the train earlier."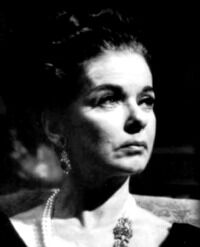 "I apologize, Miss Winters, and I accept my dear sister's all-too-proper chastisement. This must be the first time in the history of Collinsport that the train from New York arrived less than three hours late." He refreshes his drink. "Care for a brandy?"
This is the first time Victoria has met her new employer, having been hired directly from the New York orphanage, where she grew up, by mail. It seems odd that she would be employed from such a distance, sight unseen, but she appreciates the opportunity.
"My nephew David has gone to bed. You'll meet him in the morning."
"Frankly, Miss Winters, I still don't see why my son needs a governess, but my sister has a whim of iron. What the young devil needs is some good, old-fashioned discipline."
Pointedly ignoring her brother, Mrs. Stoddard shows Victoria to the room where she'll be staying. She mentions the fact that her daughter Carolyn, just about the same age as Victoria, is out on a date. She hopes the two young women will become good friends.