Turn 6 Investigation Phase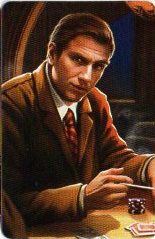 Action 1: Fight the Ghoul Minion. Strength 3 +1[Lita] Mythos token
[-1] vs. 2
Success! damage 1 +1[Lita], defeated.
Action 2 and 3: gain 1 resource.
Action 4: play Dynamite Blast; Ghoul Priest suffers 3 damage [6/10].
Skids lobbed the dynamite stick into the hallway. The explosion, followed by a howl of pain, were deafening.
"I guess it didn't like that!" he remarked. Daisy and her new chum Lita started for the hallway, Skids held up his hand and wondered: "Are you sure, Miss Walker? It'll come to us..."