Episode One - New Faces.
Operation Foothold - Vichy France - April 1941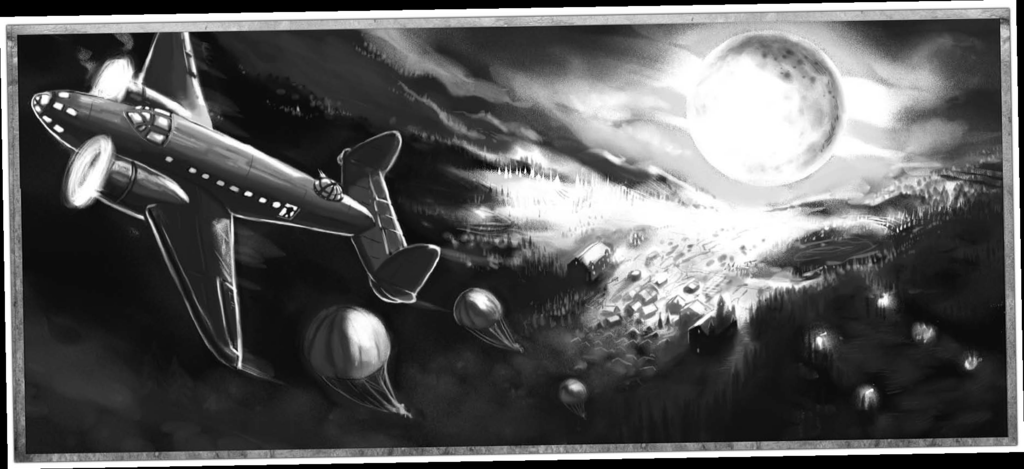 The last ten days had been a bit of a whirlwind and an eye-opener, as you had been prepared for this mission. Ten days to prepare you for a drop into Vichy controlled France at a village named Saint-Cerneuf which has been identified by intelligence as 'suitable for operations'. Being isolated, having only a small garrison, yet close enough to key targets to make it a worthwhile proposition. Added to this the local partisans seem motivated and dependable, and, most important of all, the fields near the wooded part of Saint-Cerneuf could be a good landing ground for parachutists.
All in all you were told during your briefing the "perfect place for our chaps to acclimatise and prepare in the company of friends".
Off to Wanborough Manor in leafy Surrey you had gone for 'instruction'. I suppose that was a polite word for torture, the instructors swore it was for your benefit, but you couldn't help but think some of them may have been on the wrong side.
It seems they had a special dislike for you because, as they muttered darkly, orders had been changed and that meant confusion. It seemed that theteam originally scheduled for this op had been reassigned and you shipped in as replacements.
Then mid way through your 'acclimatisation' with four days to the off, you were whisked away to N's offices. It had been the dead of night when you had arrived, 'less eyes' you were assured. Upstairs in N's cramped office, squeezed against books and artifacts covering subjects and things you didn't want to know about, N, amidst a cloud of his vile smelling tobacco smoke, gave you the SP on the mission.
You were it seemed, while in that area of France, take a look into the disappearance of one Lionel Malo, an antiquarian and occultist who vanished near Saint- Cerneuf in 1938.
It seems that this chap Malo, whom N describes as an "erudite German of good family; an epicure of the mind", was an informant of Network N before the war, and provided N with valuable intelligence about several book collections as well as… other topics, best not discussed needlessly. Before his disappearance, Malo wrote about investigating the Abbot's Wood at Saint- Cerneuf.
You are to find Malo or, if he is dead, find proof of his death. They should also discover what truth, if any, lies behind the tales of the Abbot's Wood. N told you that you might contact him via the usual means if the need is urgent and if further instructions should be called for.
At that point he had passes several brown manilla folders towards you, with the instructions to destroy their contents after you had read them. With that an engine breaks the silence of the London night, it seems your car had arrived.
As you had begun to leave, N, pipe clenched between his teeth, turns, "Oh by the by, it seems that one of our agents, codename Violin who was operating in that area has suddenly gone dark, see if you can find her? She is of some importance to the network".
Now.
As you descend,your canopy's opening above you, the moon maliciously emerges from behind a cloud, throwing silver light over the countryside. The whine of the Hudson's engines changes as it accelerates, hoping to regain the safety of the heavens before it's spotted by any German observers on the ground.
In the sudden bright moonlight you are able to see the whole landscape traced below you in silver – the village of Saint-Cerneuf-du-Bois, nestling in the folds of the valley.
There the mine, with dark roads leading away from it. There the ruins of the monastery, rising like broken teeth out of a green field, and before those theshape of the Decharette mansion.
Most of all, though, you see the forest, serene and primal, a consuming darkness that surrounds them on four sides, and seems to rise up before you as if welcoming you in to its embrace.
With a bump you hit the ground, the voice of the instructor ringing in your ears admonishing you to bend and roll. As you look around in the moonlight you can see several figures running towards you, you pray that they are friends…
OOC: Along with you the RAF have dropped several crates containing your equipment and supplies to aid in the building up of the local resistance into a viable force. Other than your personal equipment (pistols, knives, clothing etc) anything else will be within. At this stage please describe your landing and what happens within the next few seconds. Handouts will be found seperate. Please do not forget to add the number of Fate Points you have currently at the top of your post alongside your name.