Round 1 Investigators Attack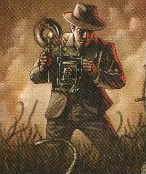 Darrell yells to the tommy gun toting woman.
"I knew there was someone else fighting against the evil in this Godforsaken town." As she fires Darrell cheers. "Drill the lizard!"
He rushes at Yig with an axe, screaming in terror, and swings the weapon: the axe bites into Yig's tail.