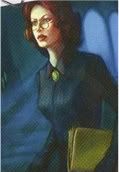 Turn 3 Arkham Encounter
Arkham Asylum
As
Carolyn
prepares to leave the asylum, she bumps into
Nurse Heather
, who is holding a hypodermic needle filled with sedatives. The nurse accidentally jabs her in the arm with the syringe.
"Ow!" cries
Carolyn
, already feeling woozy.
"Oh, I'm so sorry!" says
Heather
. "Here, maybe you'd better lie down."
Carolyn
nearly passes out, but somehow she finds the strength to continue and shakes her head. "No, I've got too much to do."