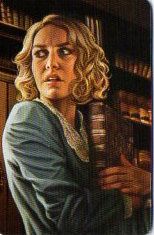 Turn 6 Inveetigation Phase
Trembling with fright,
Daisy
carefully makes her way into the graveyard. She overcomes her terror and ventures into the gravedigger's shack. It is deserted other than for various tools of his trade.
"Well, well, well," said a man carrying a shovel as he entered the shack, filling the doorway. "You shouldn't be wandering around here," he said, his voice dripping with menace. "Something could happen to you."
"Please don't hurt me,
Mr. Collins
," she says. "I can offer you all sorts of secret knowledge and magical power..."
Collins
seemed calmer now. "Well, now we're talking!" Once
Daisy
has shared what she knows, he smiles and steps out of her way, even giving her some gifts. "Thank you, that was truly fascinating. I really want to tell my cousin
Barnabas
about this - whenever he wakes up from his long slumber, that is."